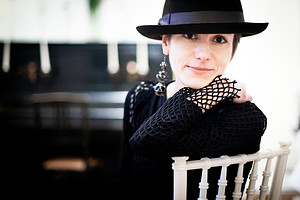 "...flashes of Argerich-type bravura and temperament back-to-back with those blissful moments of reserve we recall from Pires at her most focussed. (...) There was a chamber-music rapport with the orchestra reminiscent of Nigel Kennedy at his considerable best." - Classical Source
Romanian pianist Diana Ionescu has established a reputation for her "commanding pianism and mature musicianship" (Musical Pointers) in interpretations of works ranging from baroc keyboard composers such as Scarlatti and Bach, through the classical purity of Mozart, Schubert, or Mendelssohn, to the romantic and modern grandeur of Schumann, Rachmaninoff, Debussy or Prokofiev.
Winner of the Gold Medal of the George Enescu International Piano Competition, and the last Romanian pianist to receive the coveted top award, Diana Ionescu enjoys an international musical activity as a soloist, chamber musician, musical educator and festival director. She has been distinguished with the Alexis Weisenberg Prize and EWLE Award for Best Live Recording, second prize at the Missouri Southern International Piano Competition USA and the Lory Wallfisch International Competition Ploieşti Romania, the Glass Seller's Trophy and First Prize of the Romantic Piano Competition, London, as well as with the Ambassador Diploma for services brought to Romanian culture abroad.
She has appeared as a soloist, recitalist and chamber musician at major venues around the world, such as Wigmore Hall, Purcell Room, Queen Elisabeth, Royal Festival Hall, Barbican Hall, LSO St. Luke's, St. Martin in the Fields, Royal Opera House Covent Garden, The Sage Gateshead, CBSO Birmingham, St. George's Bristol, Salle Flagey Bruxelles, Chapelle Reine Elisabeth, Bruxelles Conservatoire, Teatro La Fenice Venice, Romanian Athenaeum, Romanian Radio Hall, Merkin Hall New York. She has been a guest of international festivals such as Progetto Martha Argerich Lugano, Verbier Festival, St. Prex Classics, Kammermusikfest Sylt 2014, Highgate International Chamber Music Festival, Beethoven Festival London, Newbury Spring Festival, Shakespeare Festival, George Enescu Festival, Sibiu/Hermannstadt Music Festival 2014, Kyoto Young Musicians.
She has performed and recorded under the baton of conductors Peter Stark, Paul Daniel, Jean François Antonioli, Walter Hilgers, Daisuke Soga, Tom Gauterin, Gabriel Bebeșelea, Vlad Conta, Ovidiu Bălan, Ilarion Ionescu-Galați, Cristian Brâncuși, Radu Popa, accompanied by orchestras such as Brunel Sinfonia Bristol, Guildhall Symphony Orchestra, Romanian National Radio Orchestra, Radio Chamber Orchestra, Cluj Philharmonic Orchestra, Timișoara Philharmonic Orchestra, Sibiu Philharmonic Orchestra, Iași Philharmonic Orchestra. Her chamber music collaborators include the Belcea Quartet, Gemeaux Quartet, Cvartetul Transilvan, Valeriy Sokolov, Dana Zemtsov, Stefan Hadjev, Pau Codina, Massimo Somenzi, Dario Bonuccelli, Daniel Palmizio, Irina Botan, Ashok Klouda, Teodora Gheorghiu, Eliana Pretorian, Vlad Maistorovici, Remus Azoiței, David Cohen, Leontina Văduva.
She has given masterclasses at the Piano Week International Festival and Summer School, workshops for amateurs and disadvantaged children at vibrate!festival in collaboration with Kawai Europe, and holds a class at the Bucharest National University of Music. In 2015 she has founded vibrate!festival Brașov, Transylvania, an event that explores ways of refreshing the listening experience of classical music. Bringing together world-class innovative artists from all across Europe, the festival reaches out to a wide audiences through eclectic repertoire and cross-discipline projects in alternative spaces.
Born in Câmpina, Romania, into a musical family, Diana was brought up in the sonic philosophy of the Madrigal Choir, founded and directed by her uncle, Marin Constantin. At 7 she started studying the piano with Sanda Bobescu, spending weekends in Sinaia and being exposed to the musical personality of violinist and composer Constantin Bobescu. After graduating the George Enescu Music School, where she studied piano with Olga Szell, she was admitted to the class of Dan Grigore at the Bucharest National University of Music, where she also studied with Steluța Radu, Sandu Sandrin and Dinu Ciocan. In 2003 she moved to the UK, to continue her studies with Ronan O'Hora, Joan Havill and Marc Racz at Birmingham Conservatoire and Guildhall School of Music and Drama. She perfected her art with Viktor Merzhanov at the Tchaikovsky Conservatoire in Moscow, Alexis Weissenberg în Engelberg, Dmitri Bashkirov at Chapelle Reine Elisabeth in Brussels and in Madrid, and Richard Goode in New York.
* last update Dec 2018